CS:GO stickers are must-have cosmetic items to personalize your arsenal, and you can apply them to any gun you like. With over 3,000 stickers available, it should not be a tough challenge to pick something that screams you.
In this guide, we will explain what types of stickers are there, what impacts their price, and what are the rarest and most expensive ones. Let's go!
In article you will find:
What are CS:GO Stickers?
CS:GO stickers are in-game cosmetic items applied to the weapon's surface.
Just as a designer bag can elevate an outfit, a sticker can elevate a weapon skin. But stickers aren't just about looking good. You can collect and trade them with other players through the Steam Community Market, which makes them a valuable commodity in the CS:GO world. It's like trading baseball cards but with virtual stickers instead.
Here's a part of the Release Notes for 2/5/2014, an update that Valve introduced the first CS:GO stickers in.
The first-ever sticker capsule was called… Sticker Capsule! It contained fifteen stickers: ten High-Grade Stickers, three Remarkable stickers, and two Exotic stickers. Here are all of them.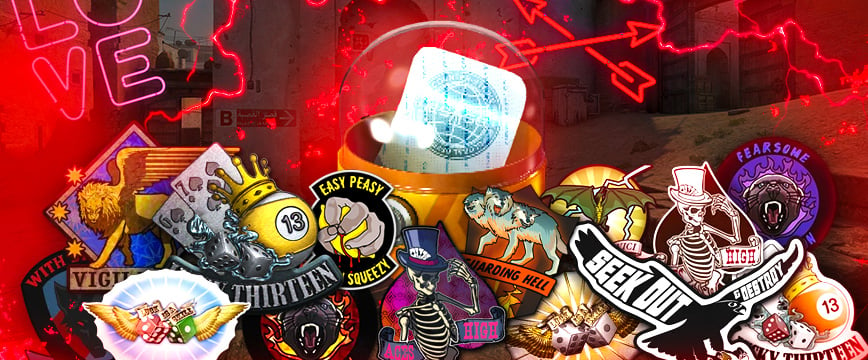 List of the oldest Sticker Capsule items:
Luck Skill – $0.37
Vigilance – $0.39
Seek & Destroy – $0.40
Cerberus – $0.40
Lucky 13 – $0.42
I Conquered – $0.43
Black Dog – $0.63
Easy Peasy – $0.75
Fearsome – $0.81
Aces High – $1.38
Fearsome (Holo) – $1.81
Vigilance (Holo) – $3.70
Aces High (Holo) – $3.90
Luck Skill (Foil) – $4.50
Lucky 13 (Foil) – $9.50
Today, a wide variety of stickers is available, ranging from simple designs and logos to more complex and detailed images. Some stickers are created by the game's developers, while others are community-made. Popular stickers include team logos, pro players' signatures, designs inspired by the game itself, pop culture, and memes.
Further, we will break down the types of CS:GO stickers, their quality, and rarity tiers. But first, let's find out what happens when you open a sticker capsule.
How Does Sticker Capsule Opening Work?
Opening a sticker capsule is a way for players to get new stickers, and it's the same randomized process as with weapon skin cases. However, unlike weapon skin cases, you don't need a key to open a sticker capsule.
When you inspect a capsule, it will show you all its stickers. Each capsule contains a specific set of stickers, and you can obtain only one sticker from the capsule. Once you open the capsule, you will see the sticker you got and be able to add it to your collection.
It's also worth noting that some stickers are getting dropped rarer than others and hence are more valuable. The names of the stickers in the capsules are colored, and these colors designate the rarity of the stickers.
You can buy sticker capsules in-game, via Steam Community Market, or via third-party services, like Hellcase. Check out the Foil Pack sticker capsule you can get on our website and open it right away.
CS:GO Stickers Rarity
Like weapon skins, CS:GO stickers are divided into different colored rarity tiers. There are five tiers of rarity a CS:GO sticker can be:
High-Grade (blue)
Remarkable (purple)
Exotic (pink)
Extraordinary (red)
Contraband (yellow)
There is only one Contraband sticker, and it's Howling Dawn. It was released in May, 2014, and today it costs around $1,250.
The higher tier of rarity a sticker is assigned, the higher its price is. However, rarity is not the only factor impacting these cosmetic items' values.
CS:GO Stickers Quality
CS:GO stickers, contrary to weapon skins, do not come with a predetermined exterior quality when they are obtained. Also, stickers will not lose their "freshness" with time, no matter how much you play with a weapon you apply them to.
However, you can transform the looks of a sticker by scraping them, giving them a used and worn appearance. Scraping a single sticker an excessive number of times may result in this sticker being completely removed from the weapon and destroyed.
A notice will appear just before the last scrape, asking you to confirm that you want to remove the sticker. If you proceed, you will destroy the sticker and will not be able to re-apply it.
CS:GO Sticker Types
All CS:GO stickers are divided into seven categories by types of their materials. Paper and Glossy are both blue stickers CS:GO offers. If you see a red CS:GO sticker, you can be sure it's one of the Lenticular, the new CS:GO stickers.
Paper Stickers
Paper stickers have a standard glossy finish and a matte backside.
Examples of CS:GO Paper Stickers:
B Hop – $0.76
Tamara – $0.80
Great Wave – $0.85
Drug War Veteran – $1.17
Battle Scarred – $2.16
Gold Nova – $2.07
When you scrape one of these, the paper backing will become visible until the sticker is fully removed.
Glossy Stickers
Glossy stickers are standard shiny stickers with no paper backing underneath the finish.
Examples of CS:GO Glossy Stickers:
RMR 2020 | Natus Vincere – $0.05
Distinguished Master Guardian – $0.12
Clutch or Kick – $0.12
Speedy T – $0.25
Legendary Eagle – $0.25
Stockholm 2021 | FURIA – $1.00
When you scrape them, the base of the weapon will be exposed.
Glitter Stickers
Glitter stickers are paper-backed stickers with fragmented textures that give off a localized holographic effect.
Examples of CS:GO Glitter Stickers:
Antwerp 2022 | Natus Vincere (Glitter) – $0.60
Go Boom (Glitter) – $0.65
Rio 2022 | s1mple (Glitter) – $0.85
Antwerp 2022 | G2 Esports (Glitter) – $1.07
Rio 2022 00 nation (Glitter) – $2.10
Blue Gem (Glitter) – $4.50
These are shiny! In our humble opinion, Glitter Stickers are one of the best out there.
Holo Stickers
Holo stickers are also paper-backed. They have several additional texture layers added to them to achieve a holographic effect.
Examples of CS:GO Holo Stickers:
Vertigo's Hero (Holo) – $0.65
Rio 2022 | Vitality (Holo) – $0.90
Unicorn (Holo) – $4.40
Antwerp 2022 NiKo (Holo) – $6.50
Stockholm 2021 | BIG (Holo) – $7.38
Infinite Diamond (Holo) – $12.15
When you inspect Holo stickers, you can see that certain parts of it change colors.
Foil Stickers
CS:GO Foil stickers have been given an additional normal map to make them look embossed.
Examples of CS:GO Foil Stickers:
Overpass Diorama (Foil) – $0.30
Romanov's Fire (Foil) – $1.15
Gold Web (Foil) – $1.50
Dust FA (Foil) – $3.70
Showdown (Foil) – $6.50
Crown (Foil) – $680
These stickers have a reflective effect due to their metallic-like coating.
Gold Stickers
Gold stickers are made by giving a foil effect to gold-painted stickers.
Examples of CS:GO Gold Stickers:
2020 RMR | Heroic (Gold) – $1.75
Rio 2022 | Cloud9 (Gold) – $11.30
Rio 2022 | Outsiders (Gold) – $14.73
Rio 2022 | arT (Gold) – $24.70
Stockholm 2021 | s1mple (Gold) – $28
Rio 2022 | degster (Gold) – $30.15
Gold Stickers are presented in every esports event-related sticker capsule.
Lenticular Stickers
Lenticular stickers give the illusion of depth. The picture can change and move when inspected from different angles.
All CS:GO Lenticular Stickers:
Skin Lover (Lenticular) – $2.03
Freeze (Lenticular) – $2.34
DJ Safecracker (Lenticular) – $5.00
TV Installation (Lenticular) – $6.55
Global TV (Lenticular) – $8.09
Magic Rush Ball (Lenticular) – $24.93
This type of sticker was introduced to CS:GO in the 10 Year Birthday Sticker Capsule in August, 2022. There are only seven lenticular stickers, and all of them are graded as Extraordinary.
Are There Any Stickers For CS:GO Knives?
There are no CS:GO knife stickers for better or for worse. You can only apply stickers to weapon skins and vanilla guns.
However, you can find a few items with depicted knives:
Stupid Banana (Foil) – $35
Purrurists (Foil) – $9.95
Doppler Poison Frog (Foil) – $9.05
Crimson Web Poison Frog (Foil) – $3.90
All Hail the King (Foil) – $1.40
Kimberly (Holo) – $2.95
Knife Club – $1.10
If you don't have a knife yet and your budget is a bit tight to get one, you can at least enjoy these stickers for now!
Foil vs Holo: Are They Really Different?
Technically, Foil and Holo stickers may look alike, but there is a huge difference between them. Holo stickers are shiny and have a holographic effect that changes colors depending on the light. Foil stickers just look shiny and have an embossed metallic effect coating.
So, in terms of Holo vs. Foil stickers, CS:GO players should pick their favorite type on their own.
CS:GO Stickers Classes
We can also classify CS:GO stickers into four groups based on their origin: Regular stickers, Team stickers, Player autograph stickers, and Operation Stickers.
Team Stickers
Team stickers made their debut at the ESL Major Series One in Katowice in 2014. At first, players could obtain them in regular and holo variants. After some time, the holo variants were replaced by foil variants, but later on, Valve added the holo variant and a new gold variant.
These stickers come in paper, foil, and gold variations, and you can obtain them randomly from the capsules that contain team stickers. Explore our loadouts dedicated to the best CS:GO teams to find skins that match perfectly with team stickers.
Autograph Stickers
During the ESL One: Cologne 2015 Major, player autograph stickers debuted for the first time. You can find paper, holo, glitter, and gold stickers of this type.
Players of the Major winning teams receive additional championship capsules with their stickers.
The autograph stickers give a great opportunity to pay homage to your favorite player by applying these on your weapons. By the way, we peeked inside the inventories of the 2022's ten best pro players. Take a look!
Operation Stickers
Operation stickers in CS:GO are only available for purchase during the operation Valve introduced them within. Only players who have got an active operation pass are allowed to purchase these stickers.
Once the operation is finished, the related stickers are discontinued. So, the next time Valve announces the new operation, play hard and collect all the operation-related stickers!
Regular Stickers
Regular stickers are not associated with esports events or operations. Many of them are community-made and often include designs based on popular memes. This stickers category includes everything that didn't come from esports events-related capsules.
If you didn't know, some of the CS:GO stickers are dedicated to other video games such as DOTA 2, Halo, Half-Life series. We found them all and shared these gems in our article. Although most of these items are not that rare, there are awesome stickers worth tens of thousands of dollars. Do you want to take a look?
The Rarest CS:GO Stickers
We wouldn't be lying if we said that the Katowice 2014 team stickers are one of the best ones that have ever been designed for professional teams. They have a minimalistic and uncluttered appearance, some of which are the rarest and most desirable stickers in the community.
IBUYPOWER (Holo) and Titan (Holo) may be the two stickers from the Katowice 2014 Sticker Collection that are sought after the most. Among the CS:GO community, these two are considered the best-looking stickers in the game.
Also, they are extremely rare. As far as we know, less than 50 Katowice 2014 | Titan (Holo) stickers exist that have not been applied to any weapons yet.
Paper variant of the iBUYPOWER | Katowice 2014 sells for around $3,000. But in Holo finish, this one costs a fortune – $80,000.
You can get Titan | Katowice 2014 in the paper version for $2,800, but a Holo variant will cost you more than $70,000.
On various marketplaces, we could find only eight offers for iBUYPOWER | Katowice 2014 (Holo) and ten offers for Titan | Katowice 2014 (Holo) as of February, 2022. Maybe you will become the next owner of these priceless gems.
Wrapping Up!
CS:GO stickers are the ultimate accessory for your weapons. There are more than 3,700 stickers in the game, and although not every sticker is not available for purchase, you will definitely find something to adore your arsenal with. Explore our blog for tons of articles about CS:GO skins and other cosmetic items, in-depth game guides, and esports news. See you!
FAQs
What are CS:GO stickers?
CS:GO stickers are in-game cosmetic items that make a great accessory to weapon skins. You can purchase them separately via Steam Marketplace or test your luck by opening a sticker capsule.
Why are CS:GO stickers so expensive?
Some of the CS:GO stickers are more expensive than others due to being rare. For example, Extraordinary stickers cost more than High-Grade ones, but exceptions may exist. A sticker's price is also based on its availability and popularity among players.
How rare is gold sticker CS:GO?
Overall, gold stickers are not that rare on the market. However, due to the lowest percentage of dropping chance, these stickers drop much more rarely from the sticker capsules than other stickers.
How do you get stickers in CS:GO?
You can collect and trade CS:GO stickers with other players through the Steam Community Market or buy and open a Sticker Capsule to get one dropped.
How do you get good CS:GO skins with stickers?
You can buy CS:GO skins with pre-applied stickers from other players on Steam Marketplace and other third-party services. However, if you want a personalized look, take your time finding the right stickers for your weapon skins and applying them the way you want.
Are CS:GO stickers permanent?
CS:GO stickers are "permanent" as long as you don't scratch them purposely to give them a worn appearance. If you scratch them too much, the stickers will go away and you will not be able to re-apply them to other skins.
Do stickers add value to Skins CS:GO?
It depends on both skins and stickers. If the sticker itself doesn't cost much, it won't add much value to a skin, and might even decrease it. However, rare and expensive stickers like Katowice 2014 | iBUYPOWER (Holo) add a lot of value to the skin it has been applied to.