P90 | Cold Blooded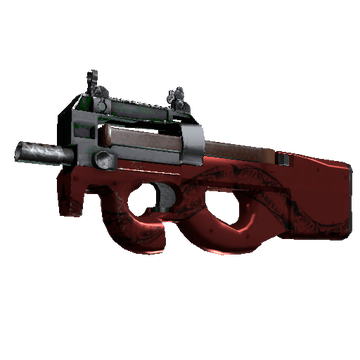 P90 | Cold Blooded
Easily recognizable for its unique bullpup design, the P90 a great weapon to shoot on the move due to its high-capacity magazine and low recoil. It has been painted with a chrome base coat and candied in transparent red anodized effect paint. It has then been laser-etched with a slithering snake motif.
| Exterior | Regular | StatTrak™ |
| --- | --- | --- |
| Minimal Wear | 23.54 | 40.77 |
| Factory New | 25.26 | 50.28 |
P90 | Cold Blooded se poate poate găsi în
ClassifiedTemporar indisponibil
4.20
CS:GO Weapon 2Temporar indisponibil
2.00
BeastTemporar indisponibil
4.00
Adventure TimeTemporar indisponibil
4.20
DominionTemporar indisponibil
15.50
Red CaseTemporar indisponibil
2.25
LeviathanTemporar indisponibil
23.75
Smell of BloodTemporar indisponibil
15.00
Poți încerca să câștigi acest articol în Upgrader
Upgrade
Poți găsi acest articol în contract
Contract
Folosim cookie-urile ca să oferim o experiență mai bună de navigare, să analizăm traficul pe site, să personalizăm conținutul și să oferim reclame țintite.
Citește despre cum folosim cookie-urile și cum le poți controla în
Politica de confidențialitate
.
StatTrak™
{{item.weapon_name}}
| {{item.skin_name}}
({{item.steam_exterior}})
esc
{{ lang.open_hotkeys_esc }}
s
{{ lang.open_hotkeys_sell }}
r
{{ lang.open_hotkeys_repeat }}
+
x
{{ event_tokens.count }}
evenimentul se încheie în
total tokenuri colectate
{{ event_tokens.count_total }}
OFERĂ ÎN SCHIMBUL PREMIILOR