Aby otworzyć skrzynki, zaloguj się przez Steam.
To niezbędne, by odebrać wygraną.
Zaloguj przez Steam
M4A1-S | Hot Rod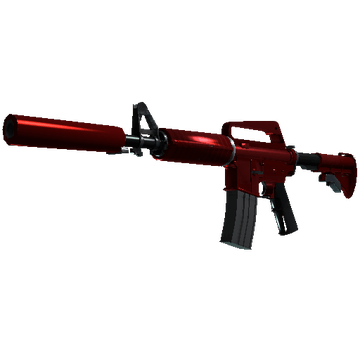 M4A1-S | Hot Rod
With a smaller magazine than its unmuffled counterpart, the silenced M4A1 provides quieter shots with less recoil and better accuracy. It has been painted with a chrome base coat and candied in transparent red anodized effect paint. Automatic. Systematic. Hydromatic.
| Exterior | Regular | StatTrak™ |
| --- | --- | --- |
| Minimal Wear | 91.48 | - |
| Factory New | 102.19 | - |
Collection
The Chop Shop Collection
M4A1-S | Hot Rod contain in cases
ClassifiedTemporarily unavailable
4.20
M4Temporarily unavailable
5.00
PremiumTemporarily unavailable
29.00
DiamondTemporarily unavailable
186.00
DreamTemporarily unavailable
50.00
The Kindest ElfTemporarily unavailable
41.25
PatienceTemporarily unavailable
26.00
Makeshift ChemistryTemporarily unavailable
33.00
InsurgencyTemporarily unavailable
28.00
You can try to win this item in upgrade
Ulepsz
You can find this item in contract
Kontrakt
Wykorzystujemy pliki cookie, aby oferować Ci lepsze doświadczenia podczas przeglądania sieci, analizować ruch na stronie, personalizować treści i dostarczać targetowane reklamy.
Przeczytaj o tym, jak wykorzystujemy pliki cookie i w jaki sposób możesz je kontrolować w naszej
Polityce Prywatności
. Dalsze korzystanie z tej strony internetowej oznacza, że akceptujesz warunki korzystania przez nas z plików cookie.