Pour ouvrir des caisses, connectez-vous via Steam.
Cela est nécessaire pour récupérer vos gains.
Connexion via Steam
★ Flip Knife | Rust Coat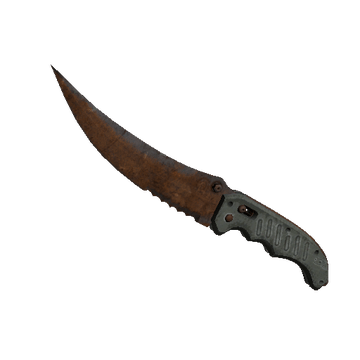 ★ Flip Knife | Rust Coat
Flip knives sport a Persian-style back-swept blade with an acute point. While the point itself may be fragile, the overall design of the flip knife's design is surprisingly durable. It is still perfectly operational although the exterior surfaces have rusted. Some people don't need to hide how dirty their deeds are
| Exterior | Regular | StatTrak™ |
| --- | --- | --- |
| Battle-Scarred | 101.37 | 116.05 |
| Well-Worn | 98.88 | 113.5 |
★ Flip Knife | Rust Coat could be found in
KnivesTemporairement indisponible
77.00
Knife LifeTemporairement indisponible
9.00
IllusionTemporairement indisponible
9.50
You can try to win this item in upgrade
Améliorer
You can find this item in contract
Contrat
Nous utilisons des cookies pour vous offrir une meilleure expérience de navigation, analyser le trafic du site, personnaliser le contenu et diffuser des publicités ciblées.< br>Vous pouvez en savoir plus sur notre utilisation des cookies et la façon de les contrôler dans notre
Politique de confidentialité
. Si vous continuez à utiliser ce site, vous consentez à notre utilisation des cookies.
StatTrak™
{{item.weapon_name}}
| {{item.skin_name}}
({{item.steam_exterior}})
esc
{{ lang.open_hotkeys_esc }}
s
{{ lang.open_hotkeys_sell }}
r
{{ lang.open_hotkeys_repeat }}
+
x
{{ event_tokens.count }}
l'évènement prend fin dans
vos jetons
{{ event_tokens.count_total }}
ÉCHANGE POUR LES PRIX