Pour ouvrir des caisses, connectez-vous via Steam.
Cela est nécessaire pour récupérer vos gains.
Connexion via Steam
M4A1-S | Hot Rod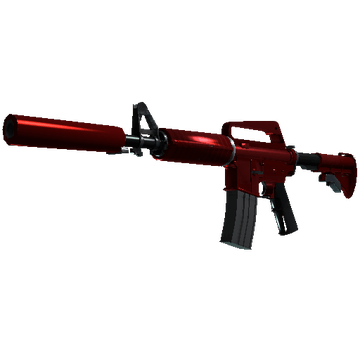 M4A1-S | Hot Rod
With a smaller magazine than its unmuffled counterpart, the silenced M4A1 provides quieter shots with less recoil and better accuracy. It has been painted with a chrome base coat and candied in transparent red anodized effect paint. Automatic. Systematic. Hydromatic.
| Exterior | Regular | StatTrak™ |
| --- | --- | --- |
| Minimal Wear | 69.84 | - |
| Factory New | 79.14 | - |
Collection
The Chop Shop Collection
M4A1-S | Hot Rod contain in cases
ClassifiedTemporarily unavailable
4.20
M4Temporarily unavailable
5.00
PremiumTemporarily unavailable
29.00
DiamondTemporarily unavailable
186.00
DreamTemporarily unavailable
50.00
ContrabandTemporarily unavailable
49.00
PatienceTemporarily unavailable
26.00
Makeshift ChemistryTemporarily unavailable
33.00
ColossusTemporarily unavailable
8.30
Black Gold BarTemporarily unavailable
4.57
You can try to win this item in upgrade
Améliorer
You can find this item in contract
Contrat
Nous utilisons des cookies pour vous offrir une meilleure expérience de navigation, analyser le trafic du site, personnaliser le contenu et diffuser des publicités ciblées.< br>Vous pouvez en savoir plus sur notre utilisation des cookies et la façon de les contrôler dans notre
Politique de confidentialité
. Si vous continuez à utiliser ce site, vous consentez à notre utilisation des cookies.