Pour ouvrir des caisses, connectez-vous via Steam.
Cela est nécessaire pour récupérer vos gains.
Connexion via Steam
Glock-18 | Twilight Galaxy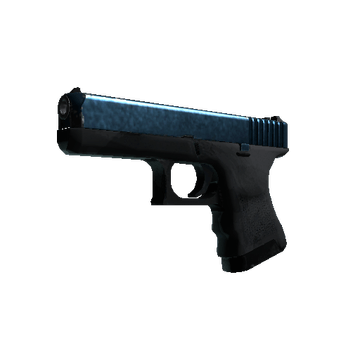 Glock-18 | Twilight Galaxy
The Glock 18 is a serviceable first-round pistol that works best against unarmored opponents and is capable of firing three-round bursts. It has been painted with metal flake paint. Stars are just pin pricks at the darkness
13.87
| Exterior | Regular | StatTrak™ |
| --- | --- | --- |
| Field-Tested | 13.87 | - |
| Minimal Wear | 15.81 | - |
| Factory New | 22.85 | - |
Collection
The Chop Shop Collection
Glock-18 | Twilight Galaxy

contain in cases
ClassifiedTemporarily unavailable
4.20
GLOCK-18Temporarily unavailable
1.50
AdvancedTemporarily unavailable
13.00
ColossusTemporarily unavailable
8.30
You can try to win this item in upgrade
Améliorer
You can find this item in contract
Contrat
Nous utilisons des cookies pour vous offrir une meilleure expérience de navigation, analyser le trafic du site, personnaliser le contenu et diffuser des publicités ciblées.< br>Vous pouvez en savoir plus sur notre utilisation des cookies et la façon de les contrôler dans notre
Politique de confidentialité
. Si vous continuez à utiliser ce site, vous consentez à notre utilisation des cookies.