FAMAS | Doomkitty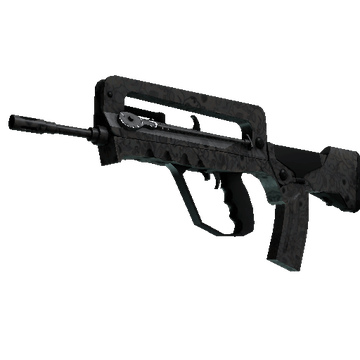 FAMAS | Doomkitty
A cheap option for cash-strapped players, the FAMAS effectively fills the niche between more expensive rifles and the less-effective SMGs. It has been hydro-dipped with a graphic of overlapping cat skulls.
| Exterior | Regular | StatTrak™ |
| --- | --- | --- |
| Field-Tested | 1.39 | 1.97 |
| Minimal Wear | 1.07 | 2.14 |
Collection
The eSports 2013 Collection
FAMAS | Doomkitty contain in cases
MilspecTemporarily unavailable
0.30
eSports 2013Temporarily unavailable
2.00
You can try to win this item in upgrade
Mejora
You can find this item in contract
Contrato
Utilizamos cookies para ofrecerte una mejor experiencia de navegación, analizar el tráfico del sitio, personalizar el contenido y presentar anuncios segmentados.
Lee acerca de cómo utilizamos las cookies y cómo puedes controlarlas en nuestra
Política de Privacidad
. Si continúas utilizando este sitio, aceptas nuestro uso de cookies.