P90 | Cold Blooded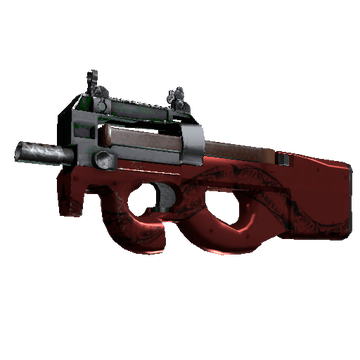 P90 | Cold Blooded
Easily recognizable for its unique bullpup design, the P90 a great weapon to shoot on the move due to its high-capacity magazine and low recoil. It has been painted with a chrome base coat and candied in transparent red anodized effect paint. It has then been laser-etched with a slithering snake motif.
| Exterior | Regular | StatTrak™ |
| --- | --- | --- |
| Minimal Wear | 15.82 | 27.64 |
| Factory New | 20.02 | 33.45 |
Collection
CS:GO Weapon 2
P90 | Cold Blooded contain in cases
ClassifiedTemporarily unavailable
4.20
CS:GO Weapon 2Temporarily unavailable
2.00
BeastTemporarily unavailable
4.00
Adventure TimeTemporarily unavailable
4.20
FortitudeTemporarily unavailable
10.50
Marvel HeroesTemporarily unavailable
8.65
You can try to win this item in upgrade
Mejora
You can find this item in contract
Contrato
Utilizamos cookies para ofrecerte una mejor experiencia de navegación, analizar el tráfico del sitio, personalizar el contenido y presentar anuncios segmentados.
Lee acerca de cómo utilizamos las cookies y cómo puedes controlarlas en nuestra
Política de Privacidad
. Si continúas utilizando este sitio, aceptas nuestro uso de cookies.