Melde dich über Steam an, um Kisten zu öffnen.
Dies ist erforderlich, um deine Gewinne zu erhalten
Mit Steam anmelden
★ Bayonet | Rust Coat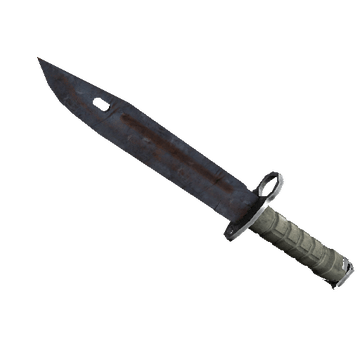 ★ Bayonet | Rust Coat
Relatively unchanged in its design since World War II, the bayonet still retains a place in modern military strategy. Bayonet charges have continued to be effective as recently as the second Gulf War and the war in Afghanistan. It is still perfectly operational although the exterior surfaces have rusted. Some people don't need to hide how dirty their deeds are
| Exterior | Regular | StatTrak™ |
| --- | --- | --- |
| Battle-Scarred | 154.68 | 166.88 |
| Well-Worn | 164.38 | 172.54 |
★ Bayonet | Rust Coat could be found in
KnivesVorübergehend nicht verfügbar
77.00
You can try to win this item in upgrade
Verbessern
You can find this item in contract
Vertrag
Wir verwenden Cookies, um dir ein besseres Erlebnis beim Durchsuchen unserer Webseite zu bieten, um den Datenverkehr unserer Webseite zu analysieren, um Inhalte zu personalisieren und zielgerichtete Werbung anzubieten.
Informationen dazu, wie wir unsere Cookies verwenden und wie du sie verwalten kannst, erhältst zu in unseren
Datenschutzbestimmungen
. Durch die weitere Benutzung unserer Webseite stimmst du unserer Verwendung von Cookies zu.
StatTrak™
{{item.weapon_name}}
| {{item.skin_name}}
({{item.steam_exterior}})
esc
{{ lang.open_hotkeys_esc }}
s
{{ lang.open_hotkeys_sell }}
r
{{ lang.open_hotkeys_repeat }}
+