Para abrir as caixas, entre via Steam
Isto é necessário para receber seus prêmios
Entrar via Steam
M4A1-S | Hot Rod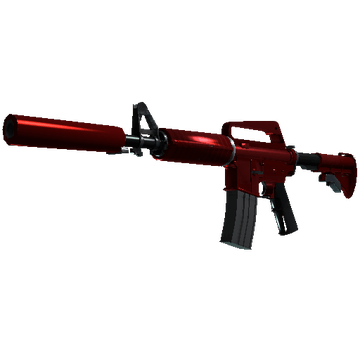 M4A1-S | Hot Rod
With a smaller magazine than its unmuffled counterpart, the silenced M4A1 provides quieter shots with less recoil and better accuracy. It has been painted with a chrome base coat and candied in transparent red anodized effect paint. Automatic. Systematic. Hydromatic.
| Exterior | Regular | StatTrak™ |
| --- | --- | --- |
| Minimal Wear | 92.88 | - |
| Factory New | 104.05 | - |
Collection
The Chop Shop Collection
M4A1-S | Hot Rod contain in cases
ClassifiedTemporarily unavailable
4.20
M4Temporarily unavailable
5.00
PremiumTemporarily unavailable
29.00
DiamondTemporarily unavailable
186.00
DreamTemporarily unavailable
50.00
The Kindest ElfTemporarily unavailable
41.25
ContrabandTemporarily unavailable
49.00
PatienceTemporarily unavailable
26.00
Makeshift ChemistryTemporarily unavailable
33.00
InsurgencyTemporarily unavailable
28.00
You can try to win this item in upgrade
Melhoria
You can find this item in contract
Contrato
Nós usamos cookies para oferecer a você uma melhor experiência de navegação, analisar o tráfego do site, personalizar conteúdo e publicar anúncios direcionados.
Leia como usamos cookies e como você pode controlá-los em nossa
Política de Privacidade
. Se você continuar a usar este site, concorda com o uso de cookies.