The Best Cheap CS:GO Knife Skins
Valve introduced skins for knives alongside the first-ever weapon skin case in 2013, when the Arms Deal update came out. Since then, the CS:GO community fell in love with them due to exclusivity, well-thought designs and animations.
We bet that every CS:GO player, including you, has dreamt about owning a knife skin at least once. If you are looking for a knife skin but your budget is limited, this article will help you find one. We will explore the best cheap knife skins the market offers, and also find out whether the best CS:GO knife is necessarily the one that's worth the most.
In article you will find:
What Makes CS:GO Knife Skins Cheaper?
The contrast in prices of skins for knives is astronomical. The cheapest knives cost around $60, but the price tags of some of the skins can reach tens of thousands of dollars. There are several factors that impact the price of CS:GO knife skins.
Firstly, there are nineteen different styles of CS:GO knife skins available today, and some of the styles tend to cost more than others. Here are approximate price ranges for every CS:GO knife style, from the most expensive to the least expensive ones as of September 2022:
Butterfly Knife ($500-$3,000)
Karambit ($350-$2,500)
M9 Bayonet ($280-$2,500)
Talon Knife ($230-$2,500)
Skeleton Knife ($230-$2,000)
Bayonet ($190-$1,500)
Flip Knife ($120-$1,200)
Stiletto Knife ($120-$1,000)
Classic Knife ($110-$1,000)
Ursus Knife ($100-$1,200)
Nomad Knife ($100-$800)
Huntsman Knife ($90-$1,100)
Bowie Knife ($90-$1,000)
Paracord Knife ($90-$750)
Gut Knife ($90-$400)
Falchion Knife ($85-$750)
Survival Knife ($85-$600)
Shadow Daggers ($70-$800)
Navaja Knife ($65-$400).
In addition, the condition of the knife skin varies the price. As the float value rises from Factory New to Battle-Scarred, the value of the skin decreases. It works for every weapon and glove skin in CS:GO as well, not just knives. Other factors that impact a skin's worth are its popularity, rarity of a featured pattern, StatTrak™ availability, etc.
So, are there any skins that are cheap enough to fit a limited budget, but still decent to use?
Top Cheapest Knife Skins
We believe that the coolest-looking knife doesn't have to be the most expensive one. If you are not willing to spend a fortune on your CS:GO inventory, we've got a list of the best cheap knife skins out there for a budget under $70, $120 and $160.
Now, let's find out where a low budget can get you.
Best CS:GO Knife Under $70
As we learned earlier, Navaja knife style is the cheapest knife in CS:GO. It first appeared in the game in 2018 and gained popularity not for its design, but for its affordability. It has a tiny blade and trivial animations compared to other knives represented on the market. Nonetheless, there are Navaja skins that are worth considering buying.
Moving forward, Shadow Daggers come right after Navaja in the "price tier list". This knife style is quite unique as it gets you not one but two daggers to slay the backs of your enemies with.
For this category, we picked two skins for Navaja Knife and one for Shadow Daggers.
Navaja Knife | Damascus Steel – $67 (FT)
"Finally, a weapon strong enough to match your resolve."
In our humble opinion, Navaja Knife | Damascus Steel is the best knife in CS:GO that you can get with such a limited budget. No matter how high the float value of this skin gets, Damascus Steel does not get any scratches, only the blade darkens. This skin is stylish yet reasonably priced. Even in Field-Tested condition the knife looks good, and it sells for $67.
Shadow Daggers | Rust Coat – $69 (WW)
"Some people don't need to hide how dirty their deeds are."
While this skin comes from one of the unpopular series, the amount of rust covering these daggers does not make them less deadly for your enemies. Shadow Daggers | Rust Coat is an optimal choice if you are looking for affordable knife skin, and you are not really a fan of colorful cosmetic items. These daggers in Well-Worn condition will cost you $69.
Navaja Knife | Stained – $70 (WW)
"If you think it's messy now, wait until you see it under a blacklight."
Here is another Navaja-styled knife for you to consider acquiring. Navaja Knife | Stained was given a forced patina, and the pattern adorning its blade was made by dripping lemon juice and drops of mustard on its blade. The $70 price tag is rather humble for such skin in Well-Worn condition.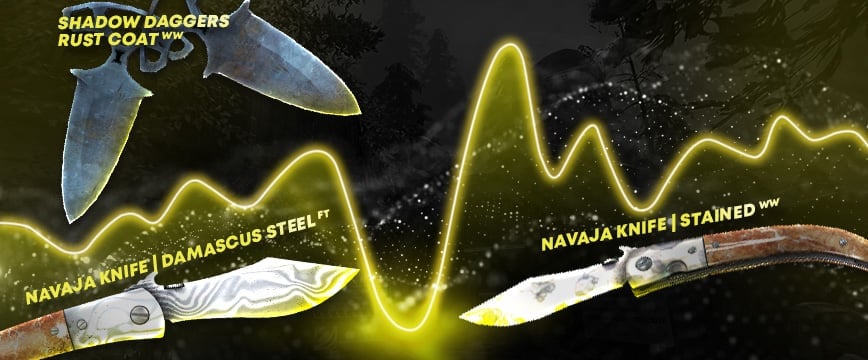 Best CS:GO Knife Under $120
Further, you will find three more skins for Gut Knife, Falchion Knife, and Navaja Knife. Each of them costs no more than $120.
Gut Knife | Slaughter – $105 (FT)
"Valeria doesn't pay Javier to ask questions… she pays him to pry out answers."
Slay, king! Frightening name, frightening design, not-so-frightening price – this is why we couldn't miss out on mentioning Gut Knife | Slaughter. The blade of this knife is coated with aluminum, chrome paints and a red translucent paint layer. The knife also has an unpainted wooden handle. The Field-Tested wear level is the highest one this skin can have, and it sells for $105.
Falchion Knife | Freehand – $115 (MW)
A deep purple base and a detailed hand-drawn pattern made with metallic marker are what make Falchion Knife | Freehand stand out. This skin is vibrant and eye-catching. While it is available in all wear levels, it is quite affordable even in Minimal Wear condition as it costs only $115.
Navaja Knife | Marble Fade – $120 (FN)
"The blade is made of many colors, but soon it all looks red."
The first actually flamboyant skin on our list is Navaja Knife | Marble Fade. The color palette of this skin is blue, yellow and red. The placement of colored areas depends on the pattern index that shifts the gradient along the blade. A Factory New condition variant will cost around $120. It's the best knife in CS:GO Marble Fade series, if the price is your main deciding factor.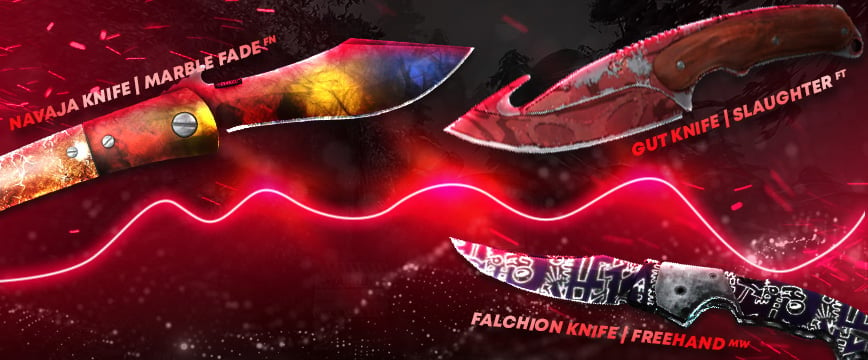 Best CS:GO Knife Under $160
Now we're getting to the most interesting part of our list. As you can see, as the budget grows, the amount of color options of the skins do as well proportionately. Here are five attention-worthy skins for Navaja Knife, Shadow Daggers, Survival Knife and Gut Knife, all under $160.
Navaja Knife | Doppler – $135 (FN)
"Getting lost in its color can prove fatal."
Doppler skin series is known for having several phases. Each phase hugely differs from the other in color. The most expensive phases of this skin family are Ruby, Sapphire and Black Pearl. However, you can find common variants of Navaja Knife | Doppler in Factory New condition that has a price of $135, or search for Minimal Wear or Field-Tested skins for an even lower price.
Shadow Daggers | Blue Steel – $135 (FN)
"This is the malbec of weapon design – Booth, Arms Dealer."
Freeze your enemies to death. Shadow Daggers | Blue Steel have been cold blued and they look like they are frozen. The skin features a scratchy pattern in blue, green and purple colors. This is probably the best cheap knife skin for Shadow Daggers style within this price range. For a Factory New condition, you would have to pay around $135.
Survival Knife | Case Hardened – $150 (WW)
"A little color never hurt anyone."
We can say confidently that this one from the Case Hardened skin family is the coolest-looking knife. No matter which style you decide to go for, it's the pattern that makes it pop. Sadly, there is no way to get a Blue Gem variant operating such a low budget, but common patterns of the Survival Knife | Case Hardened in Well-Worn condition cost around $150.
Gut Knife | Autotronic – $155 (FT)
Gut Knife | Autotronic is the cheapest knife in CS:GO's Autotronic skin family. Anodized red paint and gray steel are an eye-catchy match that makes this skin worth its price. Both blade and handle of the knife have parts of steel mesh inserted to lighten the weight and boost the look. You can get Gut Knife | Autotronic for $155 in Field-Tested wear level.
Gut Knife | Lore – $160 (FT)
The Lore skin family is one of the legendary and pricey ones, and it features AWP | Dragon Lore, the most expensive skin for AWP. Nonetheless, there are also skins that can fit into our established budget. Gut Knife | Lore, being one of them, has a golden chain pattern on its blade and a wooden handle painted dark green. In Field-Tested condition, Gut Knife | Lore will cost you around $160.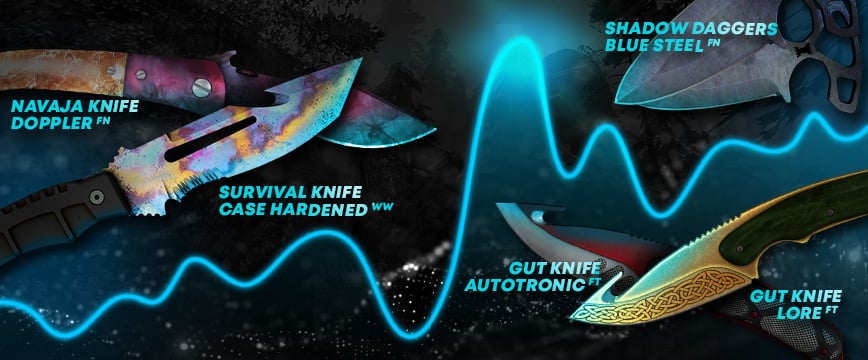 How to Find Cheap CS:GO Knife Skins
Together with our list of the best CS:GO knife skins that will please your eye but not hurt your wallet, we prepared a couple of practical tips and tricks on how to find cheap and good-looking skins on your own:
Search skins with a Patina finish style. They don't get scratches as their float value increases, unlike skins with other finishes. Patina skins only get darker when the wear level rises. Read our article about the finish styles of CS:GO skins.
Don't buy skins based just on their popularity. By relying on your actual preferences and not trends, you might save yourself some money on a skin you really like.
Follow market changes. Sometimes it might be hard to resist, but don't buy skins impulsively. The price of every skin can both explode or drastically go down at some point. If a certain skin caught your attention, but it is a bit out of your budget, just wait and it might become cheaper soon.
Explore the great deals we offer on Hellcase and get the best knife skins for the lowest price.
Well, that's about it. What we like about CS:GO is that there are skins in all colors, all styles and all price ranges. It means there's definitely a skin for everyone, whatever your budget and preferences are.
To Conclude!
The best CS:GO knife is not the most expensive one or the most colorful one, but the one that suits you. The best skins are the ones that you personally find visually appealing and enhance your gaming experience. Approach the process of choosing a knife skin by relying on your preferences. Check out the best cheap knife skins on our website and finally get your first knife. And if you have a knife skin or even a few of them already, remember that there's always a place for another one.